Shower enclosures
When you get to the stage of separating the bathroom (shower area from everything else) you have basically two options - one is with a standard ready-to-fit shower cubicle (available from any larger hardware store), and the other option is to order a custom-made shower enclosure - with dimensions that fit the layout of your bathroom, with options for opening or just a shower screen, with different options for the glass, prints and all sorts of other customizations (in a previous article we looked at the different types of glass for shower cabins https://www.colorglass.bg/bg_BG/novini/vidove-stukla-za-dysh-kabina-i-paravan-d131.html). As a manufacturer with more than 25 years of experience, we only deal with individual projects. Therefore, to make the choice easier and list some of the factors you should consider, here we will present the main options for partitioning the shower area in the bathroom.
1. Shower screen with clips
The screen is a fixed non-openable glass, most often attached to the wall, near the shower. In this version, it can be seen that the grip is through so-called clips - small clamping elements that are fixed in a wall, floor and/or ceiling. Although a large part of our orders are with glass screens fixed to the wall, we also have some that are fixed to the floor and ceiling only.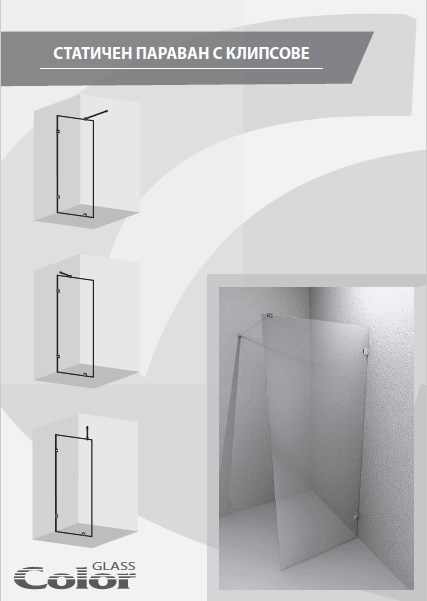 2. Shower screen in aluminum profile
The other common option for attaching the glass to the wall, floor and/or ceiling is through an aluminum profile. As seen in the drawing, the profile replaces the clips. In both versions, we most often also use a reinforcing bar, clamped either parallel to the glass, at 45 degrees, or to the ceiling. Although it is not mandatory, customers are often worried whether the glass is completely stable, so we recommend installing the bar as well.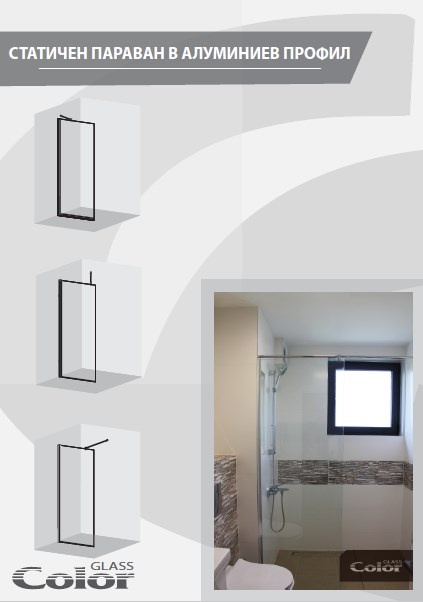 In addition to static glass, partitioning the bathroom can be made more efficient by completely closing off the shower area from the rest of the room. Depending on the different features and requirements, the closure can be angular or straight. Moreover, there are different options of opening – sliding, butterfly or normal hinge door. We will look at some of the most basic options of glass shower cabins. Let's start with the corner glass shower enclosures.
3. Corner shower cabin with two doors
Often the part that needs to be partitioned off is only one corner of the entire bathroom. Therefore, there are different options for partitioning it. A custom solution that is not very populary but nevertheless looks very nice is a shower enclosure with two static glasses and two doors attached to them. In this way, the corner formed by the glass can be used as a shower cabin or simply open to the rest of the bathroom.